Non-Slip Treatments for Lobbies, Entryways and Hallways in Commercial Buildings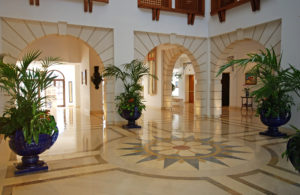 Public buildings often have slick flooring in lobbies and entryways that are accidents waiting to happen. These areas in hotels, retail stores, and other commercial buildings need to be addressed with a non-slip solution in order to minimize accidents and future liability should a customer or employee slip and fall. Commercial building owners are usually the target of lawsuits when an employee or customer falls on slippery floors.
Keeping floors clean and dry is an important step in avoiding slips and falls. When floors get wet because its an entry, or moisture gets tracked through connecting halls and lobby floors, it's an accident liability. "Wet Floor" signs are intended for temporary use only. For a more permanent solution we have non-slip sealers, paints, and etch treatments that will add wet traction with no change of appearance for stone and tile. If you're not wanting to treat the floor, a Water Hog or Scraper mat at the entry may be effective for your purpose. Whatever the surface, we have a solution for you. We can make the beauty of the floor come through and add safety too!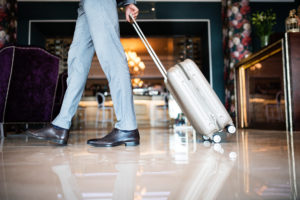 Slip Solutions of Houston can help you minimize risk in your lobby, entryway or hallways with our proprietary non-slip treatments. Call us today for a consultation and quote!